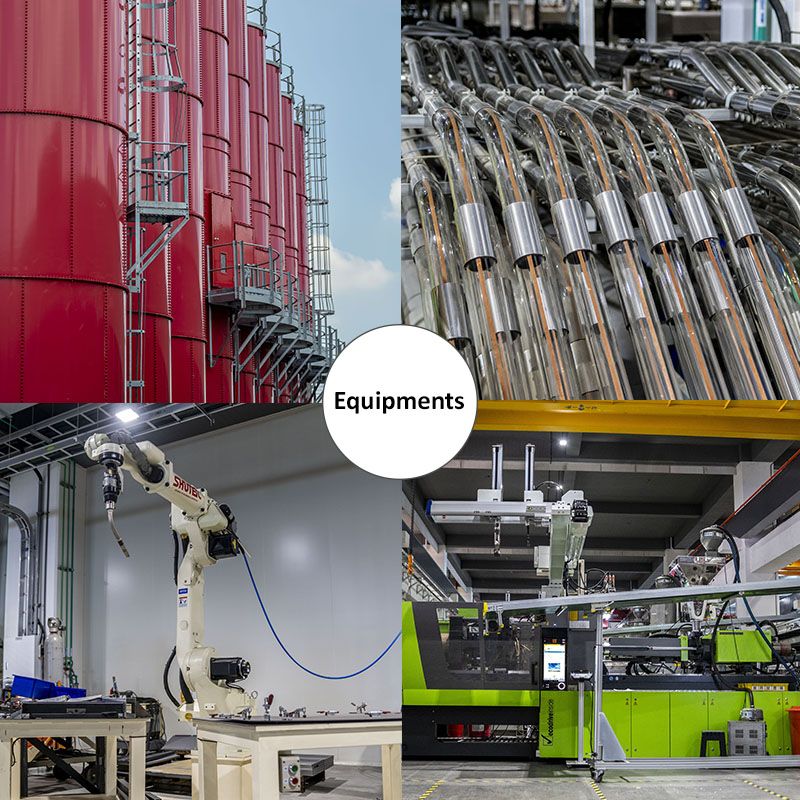 Equipment
Manufacturing equipment and machine
We own various manufacturing equipment to produce our products of storage and organizer, including plastic injection molding machines, punching machines, laser cutter machines, bending machines, welding machines, milling machines, lathing machines and so on.

We continuously upgrade our machines and invest in emerging technologies to produce our products with stable and high quality, meanwhile, the better equipment makes our production more efficient and tangible cost-saving.
---
livinbox has had more than 4,000 plastic production molds, we keep going to add a range of fully automatic injection molding machines capable of processing 100 to 1,000 tons of material. These machines run 24 hours a day across three shifts.

The updating machines and the newest technology enlarge our plastic injection line production capacity to satisfy all demand from our customers.

livinbox equips experienced ability and machines to craft the ultimate plastic storage product for you. Contact us without any hesitation.
Capacity of our equipment
CO2 Automatic Welding Robot (OTC FD-B6L)
✓ Reduces production costs by automating manual welding labor and minimizing reliance on technicians.
✓ Welding patterns can be precisely programmed, ensuring lower defect rates.
✓ Faster cycle times increase production capabilities.
✓ 6 kg capacity payload: suitable for mold frames, table legs, and FC filing cabinet doors.

NCT Computer Automated Machinery - FANUC Robotic Arm (FANUC R-2000IC / 165F)
✓ Feeds raw material to the punching machine.
✓ Reduces production costs by automating labor and reducing human error.
✓ Increases production rates with excellent cycle times.
✓ Heavy payload machine with outstanding 165 kg capacity.

CNC Servo-Hydraulic Punching Machine (Tailift HPS1250X)
✓ Shorter lead and mold times (as compared with a traditional punching machine).
✓ High flexibility: handles a wide variety of metal types and processing requirements.
✓ Computer operated: height and depth of each punch is programmable with 0.1 mm accuracy for faster punching speed.
✓ High mobility with use of CAT / CAM nesting software.
✓ Robotic arm automatic feeding reduces labor costs and increases production rates.

Injection Molding Machine (TOYO Si-850-6 / L750D)
✓ 1.5 times faster production rates than a traditional injection machine.
✓ High precision for lower defect rates in large-volume production.
✓ Focus on energy efficiency: maximizes cost-effectiveness and reduces resource dependence.
✓ Shorter cycle times due to optimized movement dynamics and synchronized locking.

Laser Cutting Machine (Bystronic ByStar Fiber 3015 F6000)
✓ Unbeatable productivity with industry-leading cutting speeds.
✓ Maximum flexibility allows for large volume production runs and spontaneous customer orders.
✓ Computerized, unmanned operation reduces production costs.
✓ Suitable for a wide range of metals, including steel, stainless steel, aluminum, copper, and more.
✓ Able to handle sheets to a maximum size of 1500 x 3000 mm and thickness of 30 mm.
Video

Machines