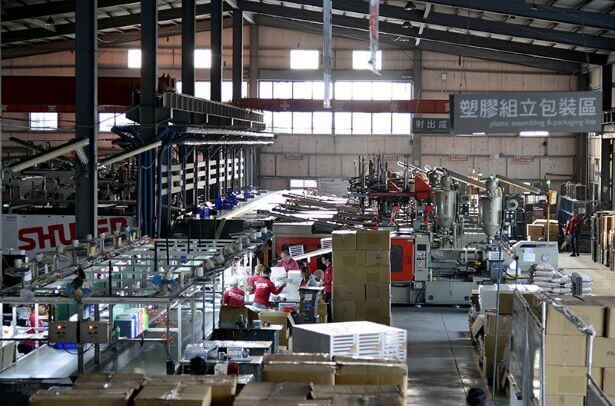 Our Story
Life is beautiful, livinbox founder Yira Wu often says, so why not produce storage products that help you to create that beautiful life at home or at work?
---
SHUTER
It all started way back in 2003. Yira Wu had just wrapped up his post-graduate studies in the UK and was returning to Taiwan to start his career in the family business, Shuter Enterprise. While working as the international sales manager for Shuter, he was able to speak with clients from all over the world who sought out the company for their long history of plastics manufacturing expertise. They loved what Shuter produced, but he noticed these customers were also seeking something else, something more suited to households than factories. After innumerable client conversations and visits, Yira quickly realized that his customers were after products that retained the quality and durability standards of traditional Shuter products, but that embodied a warmer, friendlier aesthetic.

livinbox
With state-of-the-art plastic injection machinery, experienced factory staff, and generations of mold-making knowledge to draw from, Yira dedicated himself to the difficult task crafting a line of durable yet beautiful plastic storage products–from hobby boxes and stationery organizers to flat-packed storage cubes and folding baskets. He called this line livinbox, and he knew his international customers would be lining up to buy and distribute in their respective markets.

Babbuza Dreamfactory
Today, Yira Wu is the second generation head of Shuter Enterprise and his brand, livinbox, has been championing home and office storage solutions for the better part of two decades. Headquartered in Taiwan's industrial heartland, the livinbox factory offers a one-stop-shop service for OEM, ODM, and OBM customers. livinbox products are crafted from only the highest quality virgin PP, PS, or ABS plastics, sometimes paired with wood or Japanese steel. A proud market pioneer, livinbox has continually impressed with a range of clever patented designs, from its Pelican stack-and-nest storage bin system to its INNO Cube modular shelving box range. The livinbox HQ is home to on-site designers, mold makers, engineers, machine operators, QC staff, packing and warehouse experts, and sales staff–all uniquely dedicated to making the development, manufacturing, and purchasing process as smooth as possible for their customers. livinbox can take care of every stage of the manufacturing process: from product development and design, mold making and manufacturing to testing, quality control and packaging. International retailers and distributors of quality home living storage and organization solutions need look no further than livinbox to solve all their design and production needs... and the needs of their end-users.

Let livinbox help you to produce beautiful home and office storage products.
Milestones
1969: Shuter Enterprise Co. Ltd. is founder of the SHUTER and livinbox brands, was established in Taichung, Taiwan.
1980~1983: A decade of early innovation for Shuter. Pioneering products included desk file storages, steel toolboxes and hanging bins.
1985~1989: Shuter opened its first showrooms in Taichung, Taipei and Kaohsiung
1993: Shuter opened an expanded manufacturing comples in Wuri District, Taichung.
1999: Shuter factory was destroyed by the 921 Jiji earthquake.
2001: A fire ravaged the rebuilt Shuter factory, only one melted red flip out bin survived
2002: Shuter established the precision tooling factory for in-house mold making.
2003~2004: Shuter established and R&D center to drive innovation. The livinbox brand of household storage solutions was founded.
2008: Shuter invested 5.5 million dollars in new production equipment and upgraded facilities.
2011: Shuter got CSR award in Environmental Protection & Green Solutions in Taiwan
2012: Shuter got Taiwan Excellence Award, Rising Star Award, National Award of Outstanding SMEs and CSR Award in Social Care and Community Participation
2013: Shuter got iF Design Award in Germany
2014: Shuter held International DreamWorks Architecture Competition for Babbuza Dreamfactory design.
2016: Shuter got Taiwan Excellence Award
2017: Babbuza Dreamfactory groundbreaking ceremony held on the construction site in Nantou, Taiwan.
2019: Babbuza Dreamfactory beam raising ceremony held on the construction site in Nantou, Taiwan
2020: Shuter celebrates its 50th anniversary with the construction of the Babbuza Dreamfactory, a new manufacturing complex and tourism attraction in Nantou, Taiwan
Shuter Factory
Company Video
More about livinbox and the brand's parent company, Shuter Enterprise.