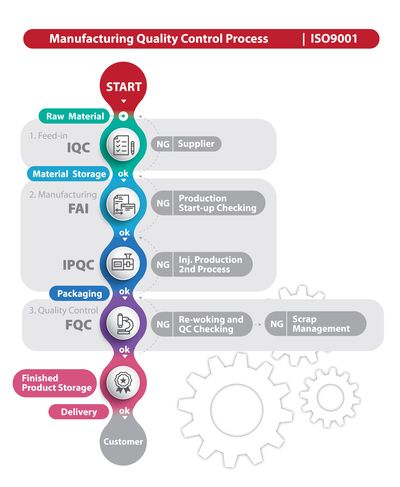 Quality & Certificate
Our factory is certified to ISO 9001, ISO 50001 and ISO 14051. Based on a number of quality management principles including strong customers focus, the motivation and implication of top management the process approach and continual improvement, we follow these criteria as our quality management system.

Total quality control that ensure all products are equipped with the highest standards that products are perfectly competitive in the international market.
---
How do we do?
Raw Material (Incoming Quality Control): All incoming raw material is carefully inspected for quality and appearance using Vernier calipers or specialist material gauges before storage and use. Rejected material is sent back to the manufacturer.
Material Storage (FAI and IPQC): To avoid quality issues, a sample is made of any new products, which is tested by an experienced SHUTER production engineer for mass production viability. All tests are recorded on a quality control sheet before and sometimes even during manufacturing–such as in the case of SHUTER steel storage cabinets.
Packaging (FQC): At SHUTER, our packaging line is rigorously designed to ensure that each packaged batch of products meets exacting standards. This eliminates the risk of foreign objects, breakages, incorrect labeling, and mis-packaged products.
Delivery: After the SHUTER QC team has ensured the products meet the customer specifications and ISO-9000 requirements, delivery will take place within the lead times confirmed to the customer when they placed their order.
Test Equipment and Facilities
Thickness gauge from Parton: 1 set
Plug gauge from KKS: 2 sets
Pencil gauge from Mitutoyo: 3 sets
Pencil testers from Patron: 1 set
Hunterlab colorflex from NR12/ Groundadvance: 1 set
Tensiometer from ALGOL: 1 set
Melt flow index tester from Gotech: 1 set
Tensile testing machine from Come-Tech: 1 set
Mechanical impact tester from Come-Tech: 1 set
Impact specimen angle cutting device from Come-Tech: 1 set
Certificates

Patent

Test Report